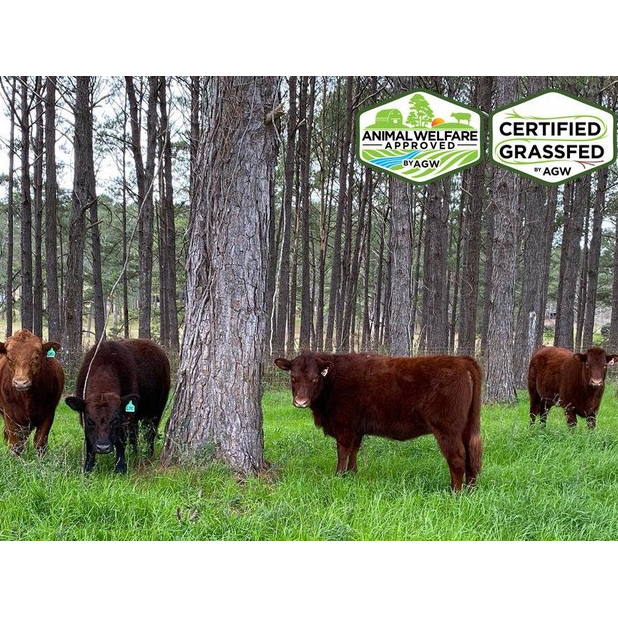 Blue Bear Farm & Cattle Co., LLC
Contact: Dawna & Michael Tanner
Address: 568 Lewis Road Cairo, GA, 39828
Email Address: bluebearfarmga@gmail.com
Phone: 850-212-5816
About Us
Our family farm is located in the Red Hills region of southwest Georgia. We are south of Cairo, conveniently located between Tallahassee and Thomasville. We produce high quality grass fed and grass finished beef from percentage and registered Red Devon cattle. Red Devons are a Livestock Conservancy heritage breed widely recognized as one of the most efficient breeds of cattle to flourish on grass and produce flavorful beef. Raising cattle solely on the forages of our pastures takes time, but adds flavor to the beef. We have continued to expand our herd by introducing new genetics to advance the optimum characteristics of the Devon breed.


Practices
We are the first farm in Grady County to be certified by A Greener World. www.AGreenerWorld.org This is an organization that works to educate consumers about the environmental, social and animal outcomes of food purchasing decisions and requires high standards for regenerative farm management and animal welfare. We can now label our beef as Animal Welfare Approved and Grassfed Certified. Our beef is processed at a facility that is USDA inspected and also Animal Welfare Approved. The beef is frozen and vacuum sealed which allows for a longer shelf life.

Our grazing management practices do not allow confined feeding, grain by-products or GMO plants. Our cattle are always grazing on our land and thereby contribute to the process of regenerating our soil and grasses. We practice rotational grazing to offer our cattle fresh grass and give our land time to rest and recover.

Of utmost importance to us is the welfare of our animals. We focus on promoting good health rather than treating disease. We never use growth hormones or antibiotics in the production of beef. Our animals are raised on our farm from birth to finish allowing for a more humane existence. They are gently handled, respected and frequently named.