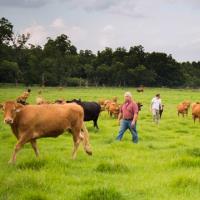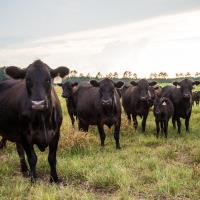 Arrowhead Beef
Contact: George Fisher, Tony DeBlauw
Address: 982 Hutchins Lane Chipley, FL, 32428
Email Address: info@tallpinesbeef.com
Phone: 850-270-8804
About Us
ATTENTION: WE WILL BE SWITCHING TO BI-MONTHLY DELIVERY INSTEAD OF WEEKLY, BEGINNING IN FEBRUARY 2019.

Arrowhead Beef provides USDA-inspected, farm-direct, grass-fed beef and also premium marbled Wagyu beef from Florida. Founded in 2010 by George Fisher, of Chipley, FL, Arrowhead Beef is a co-operative of family farms that raise the very limited breeds of both lean [grass-fed, finished] Parthenais and marbled [corn finished] Wagyu cattle. We are also raising limited batches of Berkshire pork too!

The farms are located near Chipley, on the Florida Panhandle, where co-owner George Fisher oversees all aspects of raising the livestock and farm operations. The program truly began back in 1976 with Limousin seedstock production and what has grown out of that is what has become Arrowhead Beef. Co-owner Tony DeBlauw joined George in 2014 and helps oversee sales and distribution and tests product quality frequently too :)

We invite you to share in our philosophy and enjoy some of our fine meats. They're pretty damn good afterall.

Practices
Cattle are raised in what we call "herd-life harmony™", which surmises the idea of the traditional methods of pasture raised beef, a life in which the animals never undergo stress and lead an idyllic farm life. Beef processing and aging are performed in small batches, with utmost integrity & workmanship in local, USDA-inspected facilities in Westville, FL.

All cattle are born and raised in the fields of Chipley and no animal is ever administered growth hormones or antibiotics. Our lean, grass-fed, finished program of cattle will spend their entire lives in these fields, rotating frequently and being supplemented with other harvested grasses throughout the year. Our premium Wagyu cattle will live even longer as they are treated to a 400 day minimum feed out period of corn supplemented to their pastured rotation to ensure deep and rich marbling. Our Berkshire hogs remain as happy as pigs in mud as they are raised a litter at a time, never receive hormones or antibiotics and are fed a locally milled non-GMO corn.