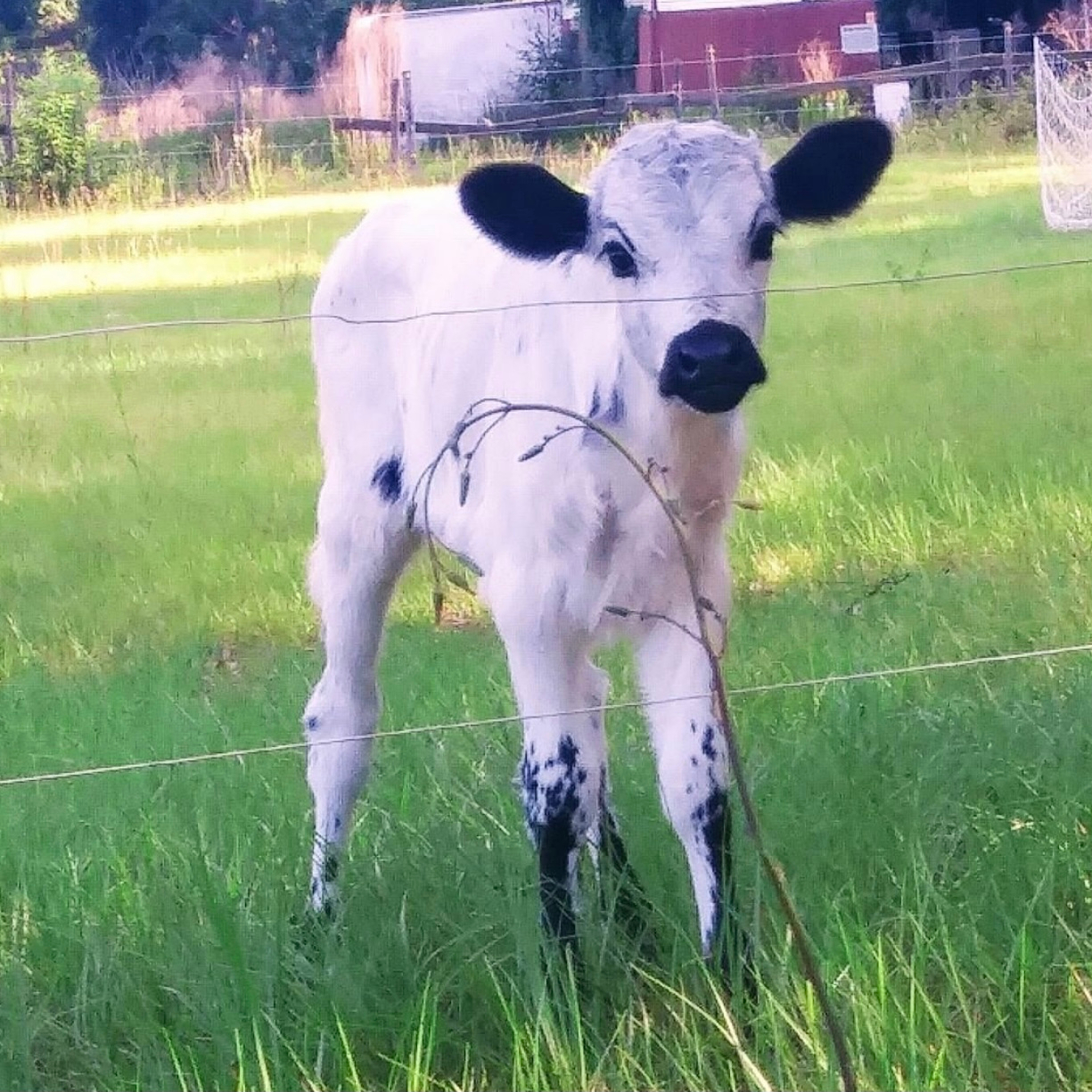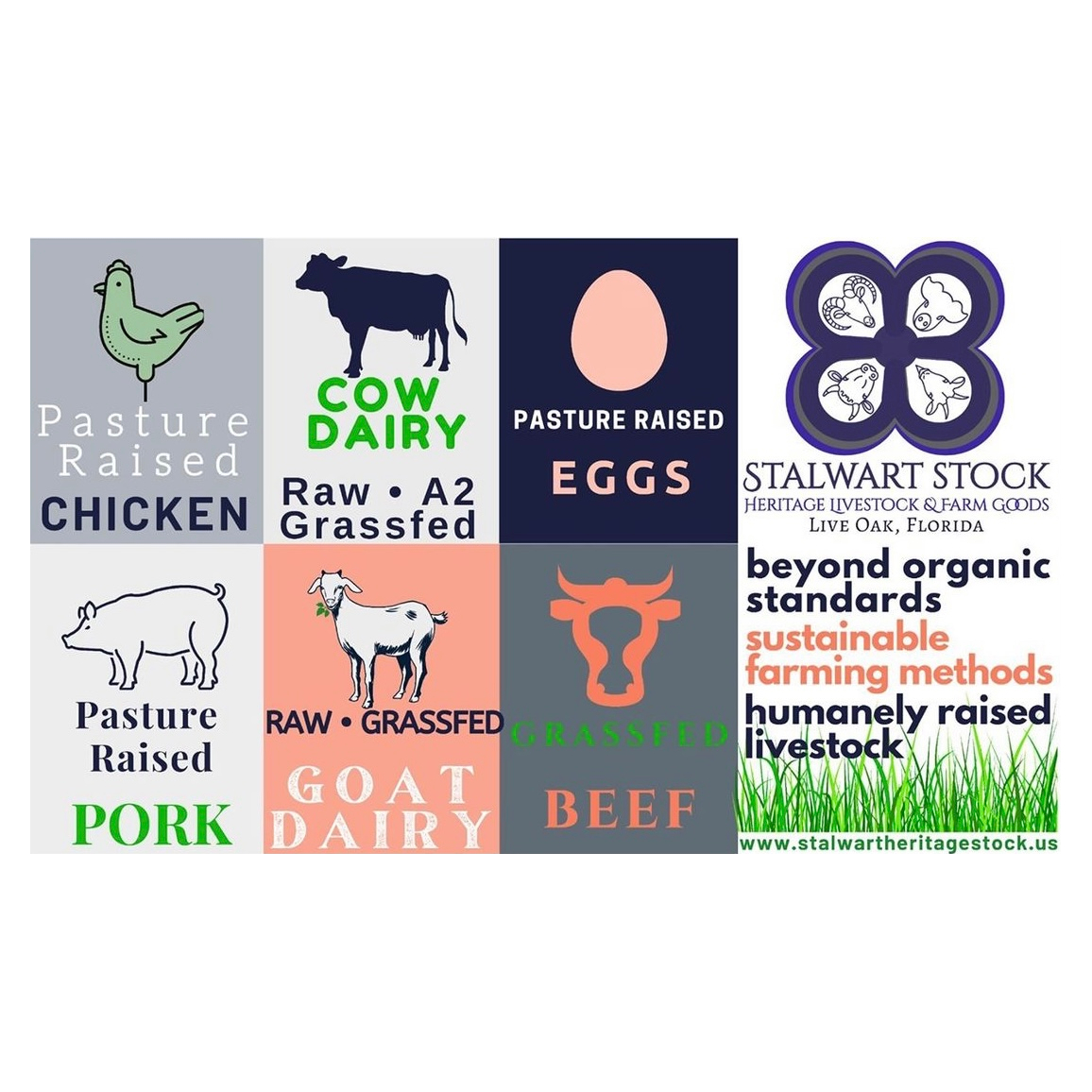 Stalwart Heritage Stock
Contact: Yvette Vandiver + Jay Baron
Address: 10776 24th Street Live Oak, FL, 32060
Email Address: information@stalwartheritagestock.us
Phone: 561-262-4297
About Us
We are a beyond organic standards family farm providing the Central & North Florida area with free range chicken & duck eggs, 100% grassfed + finished beef, pasture raised and soy/corn-free chicken & pork and heritage livestock.

Grassfed Beef

Our cows and goats graze full time on lush, diverse fields free of any pesticides, herbicides, fungicides or artificial fertilizers and are supplemented with mineralized salt, natural Fertrell minerals, garlic, herbs, ginger, Thorvin organic Icelandic kelp and are free of any grains, antibiotics, chemicals* or hormones. They live a charmed life and are allowed to raise their own young, free range in a polyherd 365 days a year and keep their horns (removing horns or horn buds is a very painful procedure and diminishes the animal's ability to regulate their bodily temperature as the horns are an organ).

Pasture Raised Chicken & Free Range Chicken and Duck Eggs

Our free range and beyond organic duck and chicken eggs and pasture raised chicken are nutritionally dense and farm fresh. Our fowl hunt bugs and eat grasses and forbs in our lush fields full time and are supplemented with organic Thorvin Icelandic kelp, diatomaceous earth, bentonite clay, fresh filtered aquifer water and herbicide/fungicide/pesticide free grains.

Pasture Raised and Soy/Corn-Free Pork

Our Heritage Meishan pigs live their lives in the pasture and woods foraging for acorns, grass and whatnots. They are supplemented with pesticide/herbicide/fungicide free, soy/corn-free grains as well as our leftover dairy from the cows & goats, cracked eggs from the ducks & chickens, garden and organic scraps, organic Icelandic Kelp, naturally-occurring Fertrell minerals, herbs, garlic and apple cider vinegar. Meishan pigs are known as the "Kobe Beef" of pork and have a wonderfully micro-marbled red meat which is unsurpassed in flavor.

Pasture Raised and Soy/Corn-Free Chicken

Our Heritage chickens are raised in moveable chicken tractors on pasture and are moved daily to fresh grass and forage. They are supplemented with pesticide/herbicide/fungicide-free, soy/corn-free grains as well as Fertrell natural minerals. Our heritage chickens are extremely flavorful and have a much wider flavor profile than the traditional white grocery store type chicken.
Practices
We utilize farming practices which surpass USDA organic standards. We do not use any chemicals*, pesticides, herbicides, fungicides, antibiotics, or growth hormones on the farm, we remineralize our fields, provide free choice access to Thorvin Icelandic organic kelp, mineralized sea salt and naturally occurring loose minerals (not artificial, Chinese manufactured minerals).

Our animals are treated in the utmost humane way. We never remove their horns, they are treated with respect and are allowed to roam our acreage freely in a polyherd 365 days a year and 24 hours a day. They do not have their offspring taken away from them at or anywhere near birth. Essentially they are treated like our own, spoiled pets whom we love!

Respect is given to mother Earth by utilizing regenerative and sustainable farming practices. We strive for a semi closed loop system whereby our ruminant animals provide food for our non-ruminant animals and non-ruminants provide for other non-ruminant animals. Chickens and ducks eat leftover dairy from the ruminants, pigs eat our excess eggs and dairy and so on. The sun and rain nurture the grass, the grass nurtures the ruminants, the ruminants nurture the non-ruminants and they all nurture the grass and forbs with their manure making our outside inputs as minimal as possible.