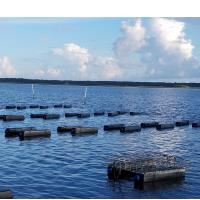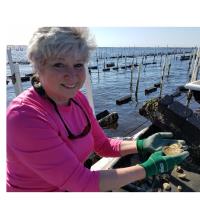 OysterMom, LLC
Contact: Deborah Keller, OysterMom
Address: 1139 E. Tennessee St OysterMom Processing Tallahassee, FL, 32308
Email Address: keller@oystermom.com
Phone: 850-566-7051
About Us
I am currently set on vacation, but you can order Oysters from me and pick them up By Appointment at my warehouse located at 1139 E. Tennessee St. Just call or text me to order. 850-566-7051

My oyster farm is located directly south of Tallahassee in the portion of Apalachee Bay known as Oyster Bay. The Bay is surrounded by the protected lands of the St Marks Wildlife Refuge and fed by freshwater springs and the nutrient rich waters of the Gulf Of Mexico.

I raise my oysters from seed to market size using a floating cage system that produces a naturally fed, organic product that is clean, salty and wonderful. Once you taste them you will never want any other oyster. I cater to locals who love oysters and want to enjoy them in the comfort of their own home. Many of us grew to love oysters when they were plentiful in this area and find the TX and LA oysters appearing in local restaurants and markets inferior to the great taste of our locally grown Apalachee Oyster. Oystermom is committed to bringing you fresh, locally grown, natural oysters raised up right with my personal loving care.

Practices
I am the oyster farmer, harvester, processor and marketer. All my oysters have been under my personal care and attention from when I seed the farm with small oysters until they are in your hands.

When you meet me to pick up your oysters, you will discover my personal pride in raising them and the care I take to deliver the freshest, safest oyster you can find in this area. I farm using a floating cage system, harvest abiding by all regulations established by state and federal agencies and store your oysters in inspected and approved refrigeration systems until they are handed over to you. Each bag is tagged with the harvest date and time so you are assured of your oyster's freshness.

I am also committed to the restoration of the natural oyster reefs and re-shell them with discarded oyster shells. It is my personal and professional mission to help bring wild oyster reefs back health with proper restoration.

NOTE: Oysters can be kept in a refrigerator for up to two weeks and remain alive and fresh!
You may pick up your oysters at the Red Hills Market or make special arrangements with me to get your oysters on other days. I look forward to meeting you.

Weather permitting, I harvest on Thursdays; the day you get your oysters so they are as fresh as possible. They ride in air conditioned comfort from the water to my commercial refrigerator located in Tallahassee. There, they are rapidly cooled to 36-38 degrees. I transport them to the Red Hills Market via my mobile refrigerator. All this to provide you with the freshest and safest oyster you can get locally.

STORING: Once you receive your oysters - place them in a bowl in your refrigerator covered with a damp towel. They will stay fresh for a week -- sometimes even longer. If you are going to keep them in a cooler on ice do not allow them to sit in the melt water. Separate your oysters from the ice with a burlap bag or towel. I have had one customer tell me all their oysters froze to death in a Yeti cooler. I've not personally tested this - but suggest you do not use those super cooler types for storing your oysters for any length of time.

I am delighted to be serving this community with safe fresh oysters. Thank you. OysterMom